Nail art - all about fingernails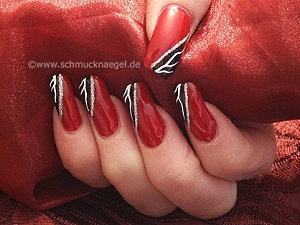 Our hands say a lot about us. Beautiful and well-groomed hands belong to a status symbol in many cultures and describe our character, as well as our body and expression. But this is not a recent trend - already in ancient times, hands and, above all, the care and nail art designs of the fingernails were a symbol of wealth and beauty. That is why we dedicate ourselves exclusively to this topic at Schmucknaegel.de. Discover more than 300 detailed nail art designs instructions, as well as many useful information about fingernails, nail modeling, products and their application, and historical background. Discover our wide range of nail art and designs your fingernails according to your wishes and on many occasions, such as weddings, Halloween, Christmas or Easter, Valentine's Day or for the respective season spring, summer, autumn and winter. Also for French or certain materials such as sequins, strass stones, half pearls, glitter-powder, nail art bouillons, beaten gold, acrylic, dried flowers, hologram foil, nail sticker or colour gel you can find motifs in our gallery.
Did you like our nail art designs? Then become a fan of us and share your enthusiasm with your friends on Facebook, Twitter, You Tube, Pinterest or Google+.
We take you to a world full of beauty
Nail art designs, nail decorations, fingernail designs, nail painting – many terms for one of the most beautiful themes. Nail art designs , the English term for inventive creations applied to the fingernails, fascinated women since ancient times. The beauty ideals of well-groomed hands and fingernails are, however, today trend style and thus more recent than ever before. With more and more sophisticated products and tools, you can create more beautiful and sophisticated beauty nail art designs . The motifs, designs and ideas are infinite. With sufficient creativity, great artworks can be conjured up even on these small design surfaces, which will take your fellow human beings breath away. The unique special patterns and motifs of the nail art designs are expressions of individuality. A nail modeling in the nail studio is not necessary in advance. Even without modeling nails/gel nails, impressive motifs with the right nail polish, nail art liner, rhinestones, nail art stickers, nail art glitter as well as tools such as spot-swirls can be applied and designed. In our more than 300 manuals and tutorials, you will also find motifs for you. Take a look at our gallery and design your nails.
You always want to stay up-to-date with our nail art designs? Then you will become a fan of our Facebook page. We look forward to your like.

In the article basic knowledge of nail polishes you will find information all about the nail polish.